Welcome To The Guns Website!
Hello! We are The Guns, London wedding & function band - welcome to our website.
We are explosive, energetic and enthusiastic performers. We all have great musical ability and are confident performers, making us the best party band you could ask for. We'll play at any private event, whether it's a wedding, birthday party, retirement party, anniversary party or corporate event.
We are an Italian 4-piece rock, pop and indie band living in London. We travel to perform at private events up and down the United Kingdom and are even open to performing shows internationally! You can read more about us individually and as a band via our Biography page.
The Guns provide you with a total of two hours of amazing live music and a truely awesome show. Each member is a virtuoso and master of their instrument so you'll get performances as close to the original versions as you can get.
You can read more about our services and upgrades on our What We Do page.
Expect to hear songs from a variety of genres: soul, funk, rock, pop, from artists such as Prince, Stevie Wonder, Black Keys, Queen, Foo Fighters, The Strokes, Jimi Hendrix, Oasis, Bruno Mars, Chuck Berry, U2 & many more. Our repertoire is huge and spans over 5 decades, so there's music for all generations to dance to!
Check out what our clients think of us by reading their reviews on our testimonials page.
Check out our amazing videos, music recordings and photos below or on the media page.
The Guns are one of the most exciting live wedding bands London has to offer. Due to our location, we're most competitively priced in London, Hertfordshire, Surrey, Bedfordshire, East Sussex & Berkshire although we are available to perform UK wide and internationally. Check our availability and get an instant online price for your event by using the quote form on our website.
To contact us via our agents, Alive Network click here
Thanks for visiting the site, we reallyy hope you enjoy what you see...and hear!
The Guns :)
Make An Enquiry
Make An Enquiry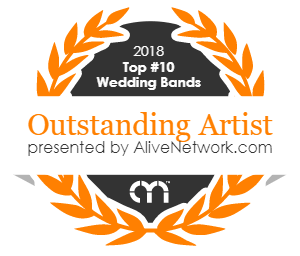 What you get:
4-piece band (male vocals, guitar, bass + drums)
2 x 60 OR 3 x 40 minute sets
FREE DJ playlist (music before, between & after live music)
Midnight finish
High end sound and lighting equipment
Stage lighting
Additional booking options
Extra song requests
After midnight finish
DJ service (if not booked within 7 days)
Safe, Secure Bookings
We are a member of Alive Network, the leading provider of London wedding bands and the largest supplier of wedding entertainment in the UK. Our bookings are secured with a contract for your peace of mind and supported with 24/7 emergency cover. Our customer support team at Alive are the best in the industry and will be happy to answer any questions about the band and offer advice to help ensure things run smoothly. Once your booking in place you are very welcome to chat with us directly. We treat each event with individual care and attention to your requirements and will endeavour to accommodate any requests made.